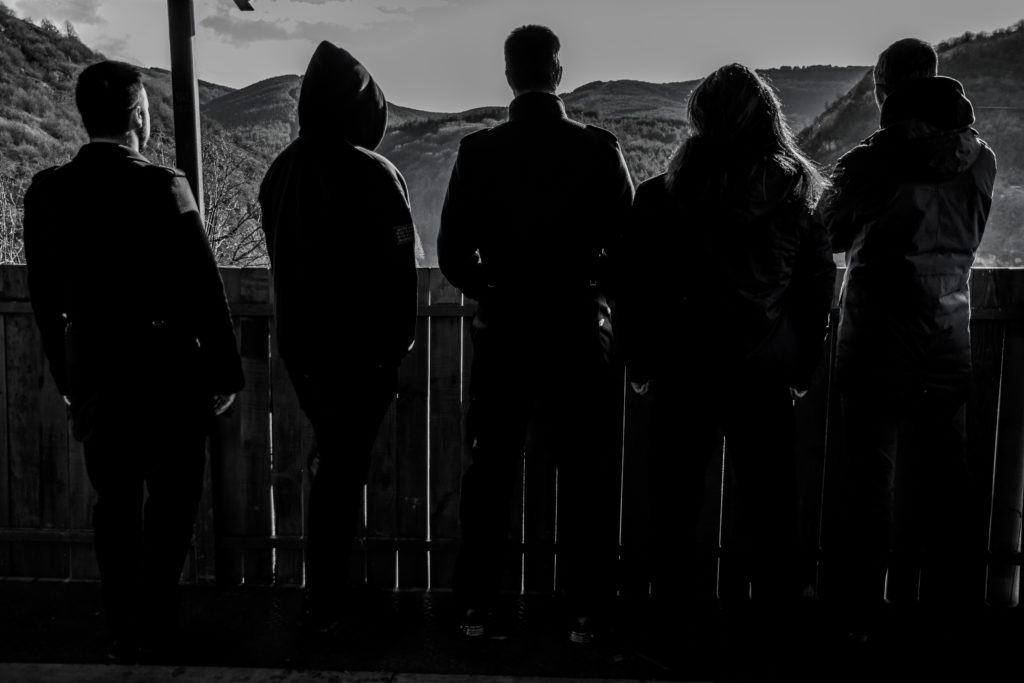 Dimholt was formed by Woundheir (vocals) and Asen (guitars) in 2003 in Burgas, Bulgaria. Together they start working on songs which later appear on the "Aegri Somnia" demo CD, released in 2007.
The band remains a duo until 2005 but then plans change as they start looking for full-time members in order to continue. Soon after that Rumen (guitars) joins the band and Dimholt finishes two new songs. A few months later the band finds a full time bass player, Yavor. In the fall of 2006 Dimholt starts actual rehearsing with the drums being overtaken by Stanimir who later becomes the band's drummer.
In 2007 the band finishes the recording of the "Aegri Somnia" demo. The CD is released in a limited number of copies – all of them sold out by now. Three years later, in 2010, the EP "Live Somnia" is released. The CD contains 2 old songs and live versions of 2 new songs.
Dimholt announces its first gig in 2009 as they are invited to join Serpentine Creation and Drevna.
In the following years the band plays alongside Vrani Volosa, Diabless (ex-Frozen Shit), Azzrakgar, The Revenge Project, Claymore, Eufobia, Dark Inversion, Prokyon, Act Of Grotesque, Alcophilia, Unhumanity, Necromancer, Envolter, Shambless, Belgarath, Bloodlines, Enthrallment, Impenitence, Mass Grave, Coprostasis, O.H., Savage Ravage and Feudistes. In 2010 Dimholt has the honor to be the opening act for the Spanish avantgard act Kathaarsys and in 2011 they play alongside Erevos from Greece. The same year also marks a visit to Serbia with 3 gigs there including local acts Bane, Tales Of Dark, Dream Epic, Toxic Trace and Defilement.
The band enters "SubZero Studio" in Sofia in the winter of 2012 to start recording their debut album entitled "Liberation Funeral". The work on the album takes more than a year and for the additional sound shaping and sound engineering the band falls back on the services of Thomas "TT" Tannenberger – guitar player, drummer and mastermind of Austrian black metal legends Abigor.
During the summer of 2013 the band is selected as an opening act for British veterans Cradle Of Filth for a gig in Sofia. In 2014 Dimholt makes a mini-tour in Romania and in April the same year part the band is chosen as an opening act for Rotting Christ's gig in Sofia.
In 2015 and 2016 the band continues to play numerous gigs in and outside Bulgaria (Sept 2016 – opening act for Gra in Sofia) incl. visits to Macedonia (gig with Ambroz in Skopje) and Greece (Death's Black Descent II Fest in Thessaloniki alongside Lvcifyre, Obliteration, Demonomancy). Dimholt plays also twice in Bucharest – in October 2016 (as part of Rites Of The Black Mass festival) and February 2017 – alongside Batushka and a local act.
In 2017 and 2018 Dimholt takes time to finish the second album meanwhile entitled "Epistēmē" and live activity is marked by a few memorable gigs alongside Schammasch, Bölzer and Bane (Serbia) in Sofia.
"Epistēmē" was recorded in sessions at various locations, including Mrdr Sound Studio (Sofia) for drums, Sub Zero Studio (Sofia) for vocals and Opus Magnum Studios (Belgium) for guitar/bass. The album was mixed and mastered by Déhá at Opus Magnum Studios.
Current line-up:
Woundheir: Vocals
Asen: Guitars
Rumen: Guitars
Yavor: Bass
Stanimir: Drums